Americans' relationship to sugar is complicated.
On the one hand, many people — about half of those polled, according to some studies — are trying to reduce the amount of sugar in their diets. On the other hand, consumers show no signs of wanting to forego their favorite indulgent sweet treats.
What they're looking for can be summed up in two words: alternatives and balance.
For many, the "alternative" is good old fashioned real sugar, an authentic, kitchen cupboard item that consumers know and recognize. To them, real sugar just feels better, and they see it as a healthier alternative to substitutes like high fructose corn syrup.
Other consumers want an alternative to real sugar, and fortunately for them, there are many natural alternatives, including honey, agave and Stevia.
When it comes to balance, most Americans are interested in pursuing healthful goals that often involve cutting back on sugar, but they also want to leave room for sugary indulgences.
In the world of baked goods, bread is a category that many consumers view as one where they can meet some of their sugar-reduction goals. They're looking for breads with both fewer added sugars and less total sugars.
It's a different story, however, in the sweet baked goods category, where consumers might be more interested in a product's ability to deliver premium indulgence than in its specific sugar content.
Sweeteners: Where consumers stand
When buying sweet foods and beverages, the ingredients list and Nutrition Facts label are the most influential information sources found on packaging, according to a recent IFIC survey, Perceptions and Use of Dietary Sweeteners in 2021.
Survey highlights include: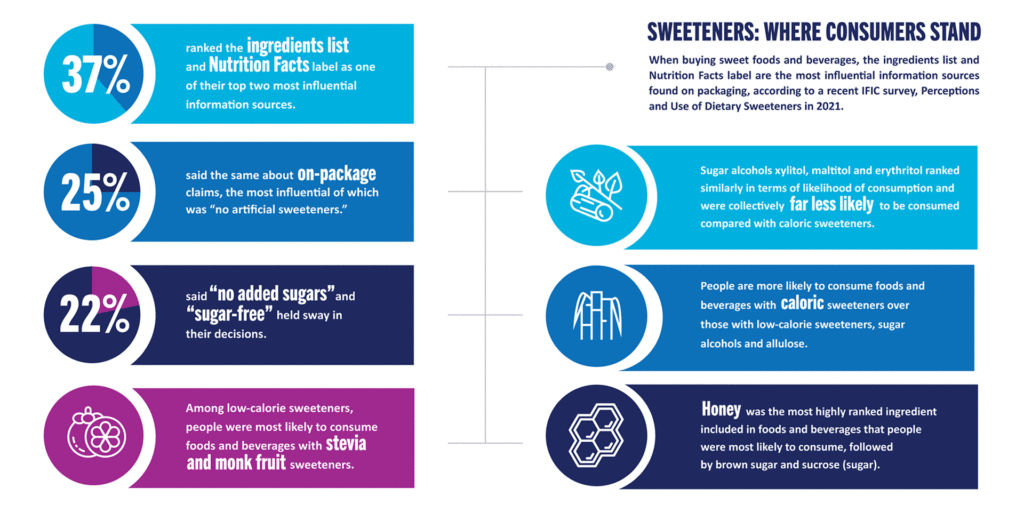 Flavor is still king
Regardless of whether consumers are looking for sugar alternatives or to reduce their sugar intake, one thing is clear: they're not willing to sacrifice flavor.
"The flavor has to be as good as the sugar original," said Ricardo Moreira, Director of Product Management at Lenexa, Kan.-based Corbion. "Making sure your product doesn't lose any sensory appeal is important in protecting your brand and maintaining consumer interest and loyalty."
If done right, bakers and manufacturers can even deliver on "indulgence" while still meeting consumers' demand for less sugar. A claim like "made with real fruit juices," for instance, can allow producers to amplify a flavor and meet flavor and sensory needs while also reducing sugar content.
Consumers are looking for a benefit that appeals to them and gives them permission to indulge. Bakers and manufacturers should seek out options that help with satiation rather than just filling their customers with empty calories — products that contain protein, fibers or probiotics, for example.
Fermentation is another way to achieve these same goals. Adding a fermented ingredient to a baked good can bring out a product's tartness or brown or grain notes.
Corbion can help its customers by offering a variety of choices. Bakers are trying to tap into health and wellness goals, and they want to be relevant to consumers with various dietary needs. They want products that are differentiated. Corbion can help, with a wide variety of tools aimed at leveraging the functional benefits of ingredient solutions.
"We can also help rebalance their formulations to include health and wellness components, keeping them unique, customized and of the highest quality," said Kathy Sargent, Global Market Director at Corbion.
Corbion can also ensure its customers have access to the latest technologies, which is essential to balancing high outputs with meeting health and wellness goals. Different markets have different needs, and Corbion's technical team can provide customized solutions tailored to customer needs.