When it comes to baked goods, most consumers put taste at the top of their list of must-have product attributes.
But taste isn't everything. Is a cookie too crisp or crunchy (or not crispy or crunchy enough)? Is the consistency of that cake too light or not light enough, and is the frosting just the right level of creamy?
All important questions that may determine whether you'll eat that product again, and all fall under the heading of "texture." Indeed, when asked what they look for in premium baked goods, many consumers mention texture claims among their top factors. And while good-for-you claims are becoming increasingly important, many aren't willing to trade texture for health.
Textures are shaped by many factors — ingredient qualities, climatic conditions, moisture content and interactions between components in the food system. And all of them affect the resiliency, tenderness and crumb structure of a baked good.
Consumers are looking for unique products that feel, look and taste authentic, such as artisanal baked goods. And texture is often one of the top reasons they choose artisanal.
Artisanal products often combine contrasting textures, like blending a crispy or crunchy component with a soft, fluffy crumb structure, said JoAnn Rupp of Lenexa, Kansas-based Corbion. The rise in baked goods with combined textures has also led to new concepts like crispy crusts with tender insides as well as unique toppings, like Pop Rocks and cereal on doughnuts.
Hybrid products, many textures
Hybrid baked goods, such as churro doughnuts (crispy, cinnamon-sugar coated doughnuts stuffed with Nutella or chocolate to provide a crunchy and creamy eating experience), Cronuts (doughnut and croissant hybrids), Brolls (croissant and roll hybrids) and Bruffins (light and flaky filled brioche pastries in the shape of muffins) have also become increasingly popular, tapping into consumers' desire for new and adventurous eating experiences, said Corbion's CJ McClellan.
"Hybrid creations play off consumers' desires for innovation and nostalgia, and they allow bakers to be more innovative with their creations," he said. "Balancing it all can be challenging, because even sugar and fat can play a role in texture."
If you're searching for great new textures, you may need to look no further than your local state fair. At this year's Minnesota State Fair, vendors will be serving up Carnitas Taco Cones with crunchy shells that can easily be eaten on the go. They're also planning to serve Halo Cones, which include a blend of cotton candy and blue raspberry soft-serve ice cream in a halo of vanilla cotton candy and sprinkled with candy toppings. The result is a unique mix of cold, smooth and crispy textures.
Cultural and environmental factors also influence the role that texture plays in baked goods, McClellan said. Consumers are increasingly interested in the authenticity of products. They watch baking shows, research specific varieties and even try baking products themselves.
Take pizza, for example. When you go to your local pizzeria and order a Neapolitan pizza, you may think it's just the toppings or cheeses that make it Neapolitan. But there are standards of identity and very particular attributes associated with the pizza, and many have to do with texture. When cooked, for example, an authentic Neapolitan pizza should be crisp on the bottom but slightly chewy on top.
Neapolitan pizza is unique for other reasons:
Only Tipo "00" flour such as Caputo flour can be used.
Only San Marzano tomatoes grown in the rich volcanic soil in the shadow of Mt. Vesuvius can be used.
Only fresh mozzarella is permitted. This cheese was developed in Naples and has a rich, creamy texture.
Fresh herbs (basil and oregano) are key toppings in the making of Neapolitan pizzas.
The water used to make the dough must be free of chemicals.
Only fresh yeast is permitted.
Pizza dough must be made and stretched by hand; no rolling pins allowed.
The oven must be wood-fired with the floor of the pizza oven at least 5 inches thick, and the pizza must cook directly on the oven floor.
The crust edges should form a rim, and the edges should be blackened.
The cheese should be blistered, with natural rises and falls on the surface.
People in one part of the world may be more accustomed to crusty or artisan textures, while those in another may be partial to baked goods with increased moistness or softness. In general, textures related to optimal freshness, such as moistness, softness and resilience, are most important to consumers, McClellan said.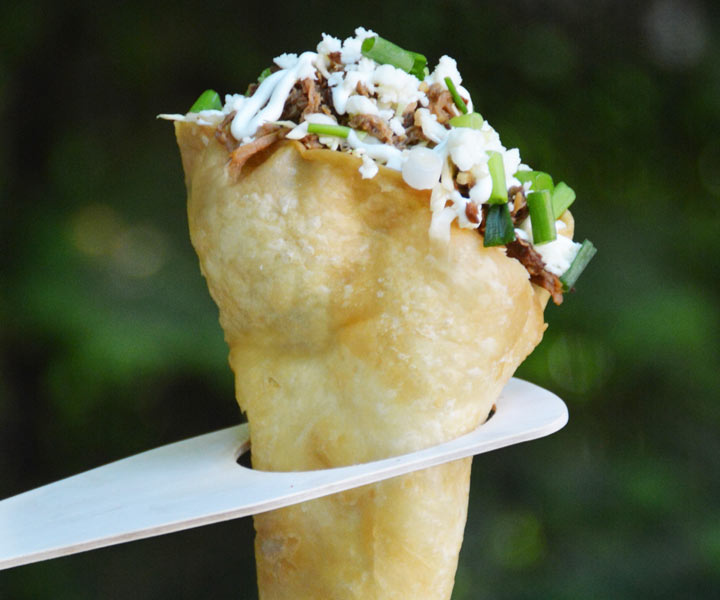 Carnitas Taco Cone
Minnesota State Fair
Aug. 22, 2019 – Sept. 2, 2019
Minnesota State Fairgrounds
More info
"If a product doesn't seem fresh, it will likely be perceived as lower quality, and that trumps other purchasing factors like price and convenience."
 Trending: creamy, luscious, soft 
Research by Corbion shows that "creamy" is one of the top texture claims for baked goods. Experience- and indulgence-based claims like "luscious" are often used to suggest the sensory satisfaction a product can offer consumers. "Soft" comes next, and studies show that it is a key attribute that consumers look for the most when purchasing baked goods.
Whatever the desired texture, Corbion has solutions to help its clients create it. They include:
Emulsifiers that help bakers achieve maximum softness, improve crumb strength and volume, and promote stabilization and aeration.
Enzyme solutions, which help bakers protect the quality of finished products. In particular, Corbion's tiered Ultra Fresh® portfolio includes solutions for increased moistness, resilience and softness, which in turn helps minimize waste and stales.
Batter strengtheners and conditioners, designed for better cake volume and symmetry.
Differentiated hydrates, which assist in achieving maximum efficiency.
Easy-to-use bakery blends that make it easier for bakers to maintain consistent quality and performance, especially when certain environmental issues may pose challenges.
Dough relaxers, which improve dough machinability for ease in processing and a more enjoyable texture and consistency.
"It's hard to say whether finding the right texture or creating the right flavor is most important, because both are so crucial," Rupp said. "But people sometimes underestimate just how significant texture is in shaping a consumer's perception and taste of a finished application. Even minor texture changes can have an impact on the overall experience of a meal."