We hear the word experience a lot in today's food world. More than ever, consumers need a good reason to take the time to go to a brick-and-mortar store, instead of just ordering what they need online.
Fortunately for the baked goods industry, experience has always been an easy sell. There are few food-buying pleasures that compare with the smell, taste and feel of fresh, hot goodies from your local bakery.
That doesn't mean bakers and manufacturers don't need to work hard to deliver ever-better experiences to today's fickle consumers.
Ashley Robertson, Director Global Marketing for Lenexa, Kan.-based Corbion, highlights a few of the ways they can do that: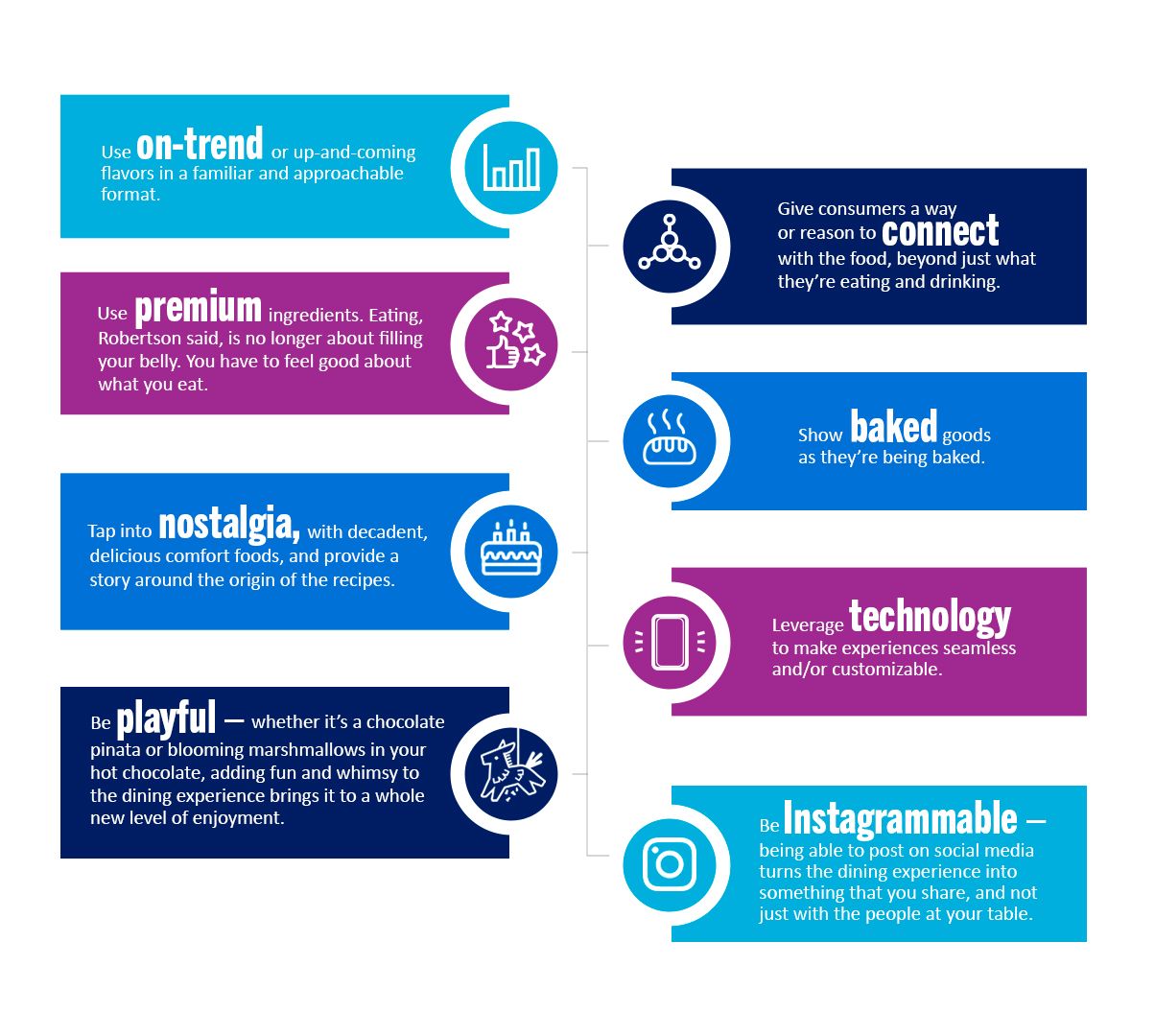 A host of other factors can prove essential to creating memorable consumer experiences. Think of personalization, which creates a "this is just for me and only me" experience.
Or shelf life. If a consumer purchases an item to eat later and it doesn't deliver the same eating experience as when it's eaten immediately, that's an experience you won't want to repeat.
Consider your environment. If you want Instagram-worthy food, you need to ensure that your tabletops and the look of your establishment, not just your food, is also worthy.
Gatherings beyond family meals will be on the rise as the pandemic recedes. Catering to those different eating occasions and experiences will also be important for success.
Don't forget convenience. Easy and on-the-go items and minis really took hold prior to COVID-19. And now, with the dawn of the new normal, these quick small treats (savory or sweet) are still going strong.

The artisan advantage
Another way to create meaningful experiences is to highlight the artisanal quality of your products, according to Joann Rupp, Corbion's global insights manager.
St. Louis-based Companion Bakery defines "artisan" as "bread made with intention." The company has been using traditional artisanal techniques for nearly three decades, practices that include gentle, slow mixing, long fermentation and stone-hearth baking.
In addition to producing outstanding breads and baked goods, artisanal methods also get people talking — an important experience in itself, said Josh Allen, Companion's founder and owner.
"We passionately believe that bread can be a catalyst for great conversations," Allen said. "We encourage folks to break more bread together. We develop flavors during a long fermentation to capture the imagination of customers."
Even if consumers don't know exactly what separates artisan from non-artisan baked goods, most at least know that artisan means higher quality, said Rupp.
"I think it just simply sounds better and is a heck of a lot easier than having to buy the ingredients themselves and having to craft it into something special like an Italian baker or a French pastry chef might be able to do," she said. "If it's artisan, then all of this can be structured and wrapped into one nice package and experience."
"Going artisanal" doesn't mean you have to abandon everything and turn into another Companion Bakery.
It can be as simple as giving breads and baked good an artisan look, providing that handcrafted experience that consumers crave, just as if they were getting fresh baked bread from a corner bakery.
That can be accomplished with something as simple as flour dusting, or using a unique way to score the bread.
Using different shapes and/or sizes can also be a way to generate more eye appeal, and using fermented natural flavors can create unique tastes and flavor profiles — including fruity, buttery or sour notes that fit the artisan profile.
A bright future
COVID helped drive home the surging popularity of artisan. And, Companion's Allen said, that surge should continue well after the pandemic is finally behind us for good.
"At-home sourdough baking was the number-one baking trend during the pandemic," Allen said. "As folks re-enter the world, they still desire the characteristics of those loaves they were making at home, they just no longer have the time to make them."
Artisan isn't the only premium baked goods category that will continue to flourish going forward, enhancing the consumer experience, according to Corbion.
Look for an uptick in multi cultural bakery items, for example. And use of specialty cheeses, savory spices, plant-based inclusions such as fruits and vegetables and natural sweeteners such as cane sugar and hone. These are among the many ways bakers will differentiate their products and continue to create unforgettable eating experiences.