In the history of the hamburger, the bun has always played second fiddle to the patty.
That may never change, but the bun now shares the limelight a lot more than it used to. Better quality. Better ingredients. More varieties. More creativity. Combine those factors with the bun's traditional function — it holds everything in the burger together — and you can see why, in 2019, the bun is getting more respect than ever.
"A burger is really only as good as its bun," said Ashley Robertson, Market Manager, Bakery, for Lenexa, Kan.-based Corbion. "The bun complements everything in between the bread and can create a unique taste experience for a consumer."
By offering a variety of tasty and adventurous bun options, retail and foodservice operators can bring an upscale touch to their menus and appeal to consumers seeking high-quality items. For example, a brioche bun can give the perception of a premium burger, thanks to its French roots and — because of its high egg and butter content — its richer taste.  
According to Mintel, nearly half of consumers say they want more premium bun options. That's led to the creation of more buns made with high-quality, premium or artisan ingredients. Additionally, there's been a big rise in snackable, convenience-size buns like Hawaiian rolls, as consumers continue to look for products they can eat on the go.
Here are just a few of the contemporary twists on the classic bun:
Doughnut
Ramen
Black-dyed
Brioche
Potato
Pretzel
Artisan
Savory
Sourdough
Ciabatta
Focaccia
And don't forget bun alternatives. In response to the growing demand for low-carb, convenient and ethnic-inspired products, bakers have seen a sharp increase in demand for tortillas, flatbreads, wraps and other baked goods that can fill in for buns as needed.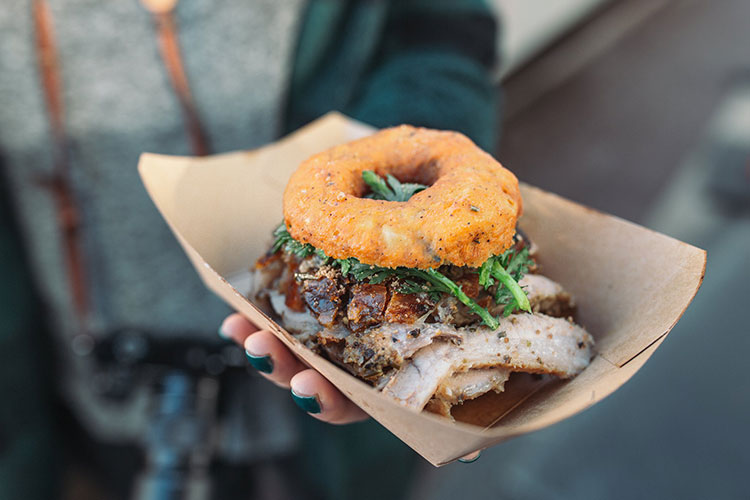 Adventures and experiences
Today's consumers are more adventurous in their eating habits. They want to recreate fond memories, enjoy food they had while traveling and experience unique flavors or textures — anything that caters to the overall eating experience. The expansion of global-inspired foods has elevated the bun industry and provided a different perception of traditional buns, as well as created new and different burger experiences altogether.
Consumers are also seeking more multicultural flavors in the foods they eat. The influx of street foods has led to a growing desire for more ethnic fare, especially in the bun category. As a result, manufacturers and foodservice operators have moved away from traditional buns to more premium-style buns that deliver artisanal, sweet, savory or spicy flavor profiles.
Simple, healthy, responsible
Many consumers are looking for healthier products that include nutritional benefits, while others are seeking a product with a simplified label. Others align themselves with a brand based on their values and look for products that are non-GMO or organic. Additionally, there's been an increase in product launches for buns and other baked goods with free-from claims that meet consumers' dietary needs.
In the past, when consumers wanted to enjoy burgers that aligned with their gluten-free needs, they had to go bun-less or substitute lettuce for the bun. Today, there are several gluten-free buns and bun alternatives available to meet consumers' dietary needs and preferences.
A helping hand
Corbion's Ultra Fresh portfolio of products gives bakery manufacturers the solutions they need to deliver the freshness, quality and shelf life that fits their needs. Corbion also has a solid lineup of ingredients specifically tailored for foodservice buns. These ingredients support the claim of "no artificial flavors, colors or preservatives" and can help with everything from ensuring consistency to protecting quality and freshness in both fresh and frozen buns.
These solutions include dough conditioners, crumb softeners, and freshness and processing aids. Corbion also offers preservative-free pre-soaked grains, flavor inclusions, non-GMO emulsifiers and other products to help bakers bake the best buns they can.